By Diane Small
We've all been there: we've had a long, busy day, and go out for a drink after work. Just as you pull out your phone to order an Uber…you see the battery's dead! And of course, you forgot to bring your charger. Don't you wish you had something that could bring your device back to life?
Now you can, through a very clever sustainable gadget called the Ampware CrankCase. Sure, there are a number of options to choose from when it comes to charging your smartphone. You can go for power banks or phone cases. These need to be charged, though. Ampware's crankcase doesn't need charging  at all. Instead, it uses the concept of using the hand to power electronic devices. While this is not entirely a new concept, Ampware's CrankCase stands out among the few that are available in the market for a few reasons.
Eco-friendliness
The fact that the Ampware crankcase is eco-friendly makes it stand out among others. To charge your phone, just unfold the handle and spin it around. The handle is connected to a rare earth magnet dynamo generator which is what produces power to charge your phone – this generator is about 23 times more powerful than solar, and (bonus!) it even works at night. Ampware, therefore uses clean, green and renewable power. There are no emissions – none!
Longer battery life
Cranking the Ampware case for 5 minutes generates a whole hour of battery life under normal use or 5 hours on standby mode. If you like playing  games on  platforms that offer live casino and social games, or  are constantly  watching videos or taking pictures on your phone, you don't need to worry about killing your battery any more:  you can crank up the battery for 5 minutes and use your phone  for an entire hour which is a vast improvement on the standard iPhone charger. Ampware provides an eco-friendly solution that generates a substantial amount of power.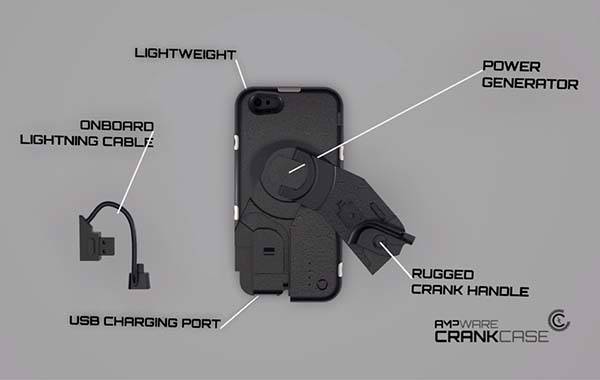 Slick Design
The Ampware is only available for the iPhone 6 and 6s. The case keeps the charging crank discreetly locked in the back of the protective bumper case. You only unlock and pull it out when you need to use it. The case also has rubberized bumpers which protect the phone against impact.  
The case is 18.5 mm thick and weighs 110 g. It has 5 volts and a maximum current of 1000 milliamps and is available in 3 colors: black, bright green and olive green – shades which are referred to as the Shadow, Sport, and the Ranger respectively. It may be a bit pricier than some solar chargers, but at  $79 a pop, it's well worth it, and costs just about as much as an iPhone charger anyway.
The Inspiration
There is always a great story behind a great product. The manufacturers of Ampware were inspired by the fact that they could not reach their loved ones via cellphone during Hurricane Katrina. Mark Gabriel owned a crank radio and for a moment he wished he had a crank cell phone.  
All In all  
We love this  eco-friendly gadget! It produces a substantial amount of power without the need for a sunny day (rare here in London these days!), has an impressive design with the handle discreetly placed, and there is a real inspiration behind the product. You really don't need to be stuck in a hurricane to want one!