Planning a wedding soon? These sustainable wedding dress brands are where you should start looking for your gown!
By Mariam Ghaidan
Wedding season is approaching! Some brides are preparing their "Something old, something new, something borrowed, something blue," while others are stressing over stylish venues and finding perfect DJ.
But no matter what style of wedding the bride may prefer, there's one key factor that every woman focuses on most on their big day: The Dress.
The sustainable design philosophy that has permeated the mainstream world of luxury fashion has also entered the realm of bridal wear. There is now an increasing number of designers determined to make gorgeous ethical wedding dresses that don't cost the earth, literally.
They may be reducing their carbon footprint by making their creations locally from upcycled materials, or they may shun artificial fibres in favour of those that biodegrade. Some sustainable wedding dress brands are even offering a service whereby you can send your dress back to be re-designed and/or dyed so you can wear it again after the big day!
In short, there are now more ethical wedding gown options available than ever before. Here's our selection of sustainable wedding dress brands we really love.
7 Sustainable Wedding Dress Brands We Love
A wedding should be all about expressing love, and Wear Your Love ensures you'll love what you wear, since the organic cotton, natural silk chiffon, and soft English tulle fabrics chosen are super soft, flowing and comfortable. Choose from styles with ethereal layers that come to life with movement, to cropped Boho halter-dresses, to delicate, classical lace designs worthy of a royal wedding.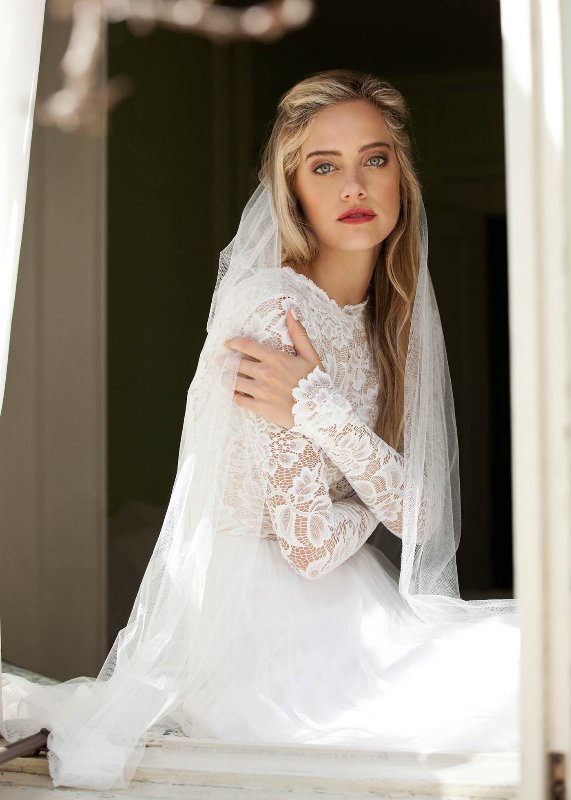 Ann Wiberg Bridal Couture is both poetic and contemporary.  Their unique wedding gowns are imbued with romance and created with a symphony of laces, embroideries and silk materials. The personalised white robes are all sewn by hand to capture the individual beauty of each bride.
Given the uniqueness and beauty of each dress made by Trash Couture, it's no surprise that Hollywood celebs place their orders with Ann Wiberg. In fact, the popular TV series, Desperate Housewives, even commissioned the couturier to design Susan's wedding dress for the episode, where the main character was to marry Mike.
The future of ethical and eco-conscious bridal design has found just the lady to lead the way to ethical sustainability.
Leila Hafzi's latest bridal range is called "Royaye Sefid" (Bright Dreams), and features a stunning line of innovative bridal dresses and evening gowns for a grand entrance. Its classic fabrics are lovingly woven and tailored into uniquely delicate creations with exciting new textures appearing in the form of hand-made silk lace, embroidered silk and beaded details.
As per her trademark, the designer has again enhanced the collection by mixing elements from different cultures. The inspiration for the Royaye Sefid V collection comes from the designer's mix of childhood memories: the Norwegian snowflake and the Iranian wild rose. These memories have been interpreted through the intricate handwork of the Santal women in Bangladesh and their excellent craftwork, using local natural silks created in beautiful crochet.
This Finnish brand was started by designer Minna Hepburn, who, despite her lack of  formal training, translated her inspiration from living in the English countryside and admiration for vintage clothing into an ethical bridal line that is now world renowned.
Local manufacturing and zero waste pattern cutting techniques are just two ways she ensures her dresses are sustainable, but she also makes sure each garment is handcrafted and embellished with sustainable, organic, and recycled textiles. Minna also provides her customers with the option of having their dress custom-made using the sustainable/vegan friendly fabrics of their choice.
Hand-made from start to finish, high-end designer bridal brand Sanyukta Shrestha combines sustainability with elegance and luxury. The collection is comprised of delicately designed dresses using organic fair-trade fabrics flowing into eloquent shapes.
Sanyukta, the winner of several national and international awards for her refined sustainable bridal pieces, is devoted to empowering women in developing countries by giving them regular work at a fair wage. The designer has also been a pioneer in encouraging sustainability and eco-friendliness in the bridal fashion industry. So popular has she become, one of her masterpieces  is kept at The Fashion Museum in Bath alongside other renowned designers of the world.
One of LA's most sought after eco-friendly designers, Deborah Lindquist provides a range of clothing including her 'eco-couture' line which features a bridal collection all produced using an array of recycled, sustainable, and organic fabrics. Deborah has earned the title 'Green Queen' due to her being able to create such stunning pieces while remaining devoted to her passion for the environment.
She has designed for myriad celebrities including Sharon Stone, Pink, Jessica Alba, Christina Aguilera, and Rihanna to name a few, and her work has appeared in several shows and publications such as Elle, In Style, WWD, and the Rock&Roll Bride.
Her wedding gowns, which are made to order upon request upon the client's specifications, are created using a mix of vintage/upcycled fabrics and organic or sustainable fabrics with embellishments consisting of semi-precious stones, crystals or vintage jewels.
In addition to her exquisite designs and eco-friendly approach, a percentage of the business' profits are donated to environmentally conscious and health organizations.
Best known for their Boho-chic, 70s inspired maxi dresses, this California based clothes-maker has now branched out into wedding design. As usual, their creations are all crafted from dead stock materials; that is to say, wasted fabric from the fashion industry that would otherwise be burned or thrown away.
The result is super cool dresses for both brides and their bridesmaids that can be dyed, restyled and worn again and again.