By Diane Small
Sadly, there can be little doubt that the climate is impacting ski resorts.
A National Weather Service study recorded a 30-percent drop in snowfall since 1975, and several of the world's largest glaciers have receded up to 60 percent since the early 1900s. According to data from NOAA, NASA, and the United Nations, spring snowpack in many parts of Western Washington, Oregon, and Northern California has dropped 50 to 70 percent since the early 1900s. Spring arrives in Tahoe two and a half weeks earlier now than in 1961, and in vaunted cradles of skiing like the Alps, climatologists estimate that two-thirds of the ski resorts there are in danger of closing by 2100. Even ski areas on the East Coast, with their high tech snowmaking systems, have lost 15 percent of their snowpack in the last 60 years.
It's ironic that those who love the sport so much often contribute so much to climate change by flying into resorts from around the world and purchasing loads of new unsustainable gear and clothing – sometimes every season. What's more, unfortunately, fur, down and leather are three main components of clothing used by skiers. And you know what? There's just no reason for it. Fur is usually used as a decorative trimming – it's not even there to insulate in most styles – so why not use faux fur instead? And down and leather can easily be replaced by vegan friendly man-made materials in things like gloves and boots.
If sustainable style trumps ethical fashion for you, then you can stay warm on the slopes with all-natural materials like pure cashmere, alpaca and wool. For example, this exclusive capsule collection of cashmere and merino wool sweaters and track pants by Chinti & Parker shown below adds a light touch to winter with their colourful prints and cheeky slogans.   The brand is well known for using only the finest textiles to create highly sustainable leisure wear.
Looking more specifically for clothes just for skiing? Vegan sportswear from luxury brands KJUS and Falke provide clothing here in the images below that moves and breathes well, without using any animal products.
Skiing is a beautiful sport, deeply dependent on the wonders of nature and a fairly stable change of seasons for its future to continue. With snowfall being reduced each year, isn't it well worth the effort to dress yourself more sustainably on the slopes?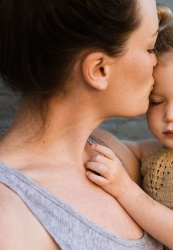 Latest posts by Diane Small
(see all)