By Diane Small
New York Fashion week has rarely seen a statement so strong. But designer Kerby Jean-Raymond, founder of Pyer Moss, simply couldn't be silent about how America is becoming a police state that's particularly brutal for black people.
Last Thursday, when he showcased his Spring 2016 collection, he used a potent mix of video, clothing and live graffiti art to make his point.
The show began with a 10 minute video showing the killing of Walter Scott, an unarmed black man shot by police in South Caroline in April. This was followed by scenes of black teens being brutalised by police in Texas this summer. Finally, there was Eric Garner being choked by police. His final words before his murder? "I can't breathe'.
The clothes reflected these scenes of horror: red-splattered jackets, Garner's final words emblazoned on white boots, jackets scrawled with the bold word: 'Breathe' and red ribbon chokers tied around models' necks. Prior to this collection, Pyer Moss had created a tee shirt emblazoned with the names of black Americans recently killed by police, but hesitated to sell them, fearing a backlash.
Indeed, making such statements in fashion is risky, but it's about time this industry stood for something besides pretty clothes. The eco-fashion movement is making a political statement of sorts; it's saying 'We don't accept that animals need to be killed for fashion,' and 'it's not right to pay people slave wages to make our clothing.' So why not say 'I don't believe it's right that the police kill black youth for no reason?' In fact, we perceive designers who have the guts to make such statements as an extension of the ethical fashion movement.
Unfortunately, Jean-Raymond has said he has lost money by creating this collection, but as he told Style Mic magazine,  "If you're going to put me in this 'black designer' category, at least let me tell a story," Jean-Raymond said.
Yet it seems the show did good for his soul; something money just can't buy. As Style Mic reports, he was confident backstage, joking and laughing with supporters and friends, shaking hands with colleagues and family and strangers. He felt lighter and happier than he ever felt after any catwalk show.  "I feel a little freer after this," he said. And somehow, so do we.
All Image Sources unless specified: Getty Images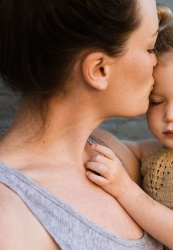 Latest posts by Diane Small
(see all)
This site uses affiliate links with brands we trust, and if you make a purchase using a link, we may receive a commission.
Did you enjoy this post? Want to show your gratitude? Please support us on Patreon!