Last Updated on
By Diane Small
Let's face it – when you think of Finland, you probably don't think much of crayon-box colours, mini dresses or oversized flowers. Unless you're thinking of Marimekko, that is.
This iconic Finnish fashion and lifestyle brand has built a reputation for bright, graphic images over the last fifty years, demonstrating that rather than slavishly following trends, style can be expressed through timeless design passed down through the generations. But did you know the label is also an ethical and sustainable fashion brand?
Founded in 1962 by Armi Ratia, the company's ethics have actually solid from the beginning, long before it was trendy. Ratia constructed the Marimekko Village in which to house her employees and to function as a communal laboratory for product design. Here, workers labour away in comfortable, if not downright hip, conditions, and of course, they're all paid a fair wage. Marimekko is also a transparent company, and has published a list of direct suppliers that cover 95% of its total production.
When environmental and ethical challenges arose with the brand's expansion around the globe, the company joined the Better Cotton Initiative (BCI), an international multi-stakeholder initiative aiming at making global cotton production better for not only the people who produce it, but also the environment, too. They also chose to manufacture their textiles under the Oeko-Tex Standard 100 and REACH guidelines. The first guarantees that the products have been tested against harmful substances to people or the environment, whereas the latter assures the company only purchases chemicals from European manufacturers and importers who operate under EU regulations.
So, when Marimekko celebrated the 50th anniversary of its most iconic pattern, Unikko, they did so knowing the company's ecological record was just as bright as the flowers on the pattern. Designed in 1964 by Maija Isola, brightly beautiful Unikko – also know as Poppy – has been the basis for everything from tableware to umbrellas, bedding to clothing, all of which have felt fresh throughout the passing decades.
New Collaborations
The brand has recently paired up with Spinnova to launch the first products from a collaboration around wood-based textiles. This collaboration started back in 2017, but today, innovative garments including a "denim-like" jacket and bag featuring the iconic Unikko poppy print, as well as a striped jersey top in blue and red are now for sale. They were designed by the firm's Riikka Buri with a focus on oversized proportions and fresh colour combinations. Both the woven and the jersey fabric used were made of the Spinnova fibre mixed with cotton and/or Lyocell. They were printed and manufactured by Marimekko at the Marimekko House in Helsinki.
This new technology means wood pulp can be spun into eco friendly fabrics without regenerating, dissolving or using harmful chemicals. Textile brand Spinnova said this is much less harmful to the environment than viscose or cotton production. Additionally, 99% less water is used than in cotton production, and post-consumer use, the fabric also biodegrades quickly.
"Sustainability starts with design," said Marimekko's design and product development director of prints and home products, Minna Kemell-Kutvonen. "The work to maximise a product's life cycle and make it as sustainable as possible begins on the designer's drawing board and material choices play an important role in this."
"The Marimekko textile printing factory in Helsinki, which serves not only as our production facility but also very much as our creative hub, offers us unique opportunities to actively participate in research and development projects taking the textile industry towards a more sustainable future. Together with Spinnova we have been able to take major steps in developing new sustainable materials from wood-based fibres."
We've long loved this brand for its fun use of colour and pattern, and are even more delighted knowing Marimekko is always increasing its sustainability. We can't wait to see what they come up with next!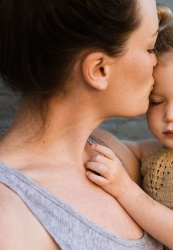 Latest posts by Diane Small
(see all)
This site uses affiliate links with brands we trust, and if you make a purchase using a link, we may receive a commission.
Did you enjoy this post? Want to show your gratitude? Please support us on Patreon!