There are a million organic tee shirt brand out there. But Live the Give is really making a difference! Here's how
By Chere Di Boscio
A lot of sustainable fashion companies talk the talk. Fewer walk the walk. But only one lives the give.
Live the Give  is the actual name of a  new e-retailer of stylish, vegan friendly tees aimed at helping end global poverty. The concept was born when an elementary school teacher, Najat Murillo, learned how many children around the world are deprived a decent education; this is especially true for girls. The result is usually illiteracy, poverty and disempowerment.
No wonder the United Nations has called education a basic human right, and state very clearly that it's one of the most effective ways for people break out of poverty: studies show that  those with more education earn more income over their lifetime, which boosts economic growth in entire nations. Education also furthers  gender equality, overall self-esteem and when women are educated, they are far more likely to insist that their children are, too, meaning educational programs create a positive cycle that can make a difference for the better.
Inspired by the United Nations and pro-education advocates like Annie Lennox and Nelson Mandela but wondering what she could do to help, Najat decided to launch a tee shirt clothing label that produces its range  in ethical, safe, lawful, and humane facilities that are all WRAP certified, and donate $3 of each sale to funding global educational initiatives. You could say these are 'smart tees'!
"I've always wanted to help children around the world enjoy a better quality of life and a more hopeful future," says Murillo. "I believe the best way to do that is by giving them the opportunity to be in school and by improving the quality of their education. I am determined to spread awareness of the importance of global education and the impact it has on our society."
Live the Give tees  currently come in styles for both men and women, but a kid's line is also in the works. These are classic pieces that go with every wardrobe, and last decades. Best sellers include a women's high neck tank top, a sweatshirt and men's pocket tee, but our favourite is the black crew neck tee with a slightly longer than usual sleeve – it's kinda unique!
The shirts are designed from sumptuously soft fabrics to flatter the figure, and they all come in neutral shades that never go out of style and match everything: think charcoal and dove grey; black and white. Whether worn dressed up with a skirt and some bangles or toned down with some ripped jeans and trainers, every tee is subtly branded at the collar seam for contemporary simplicity. There's even free shipping on all USA orders with the code SHIPUSA.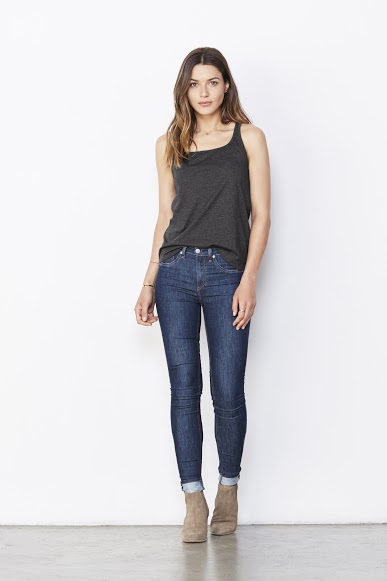 Sure, a simple tee isn't going to revolutionise the world. But the result of its sale just may. After all, as Nelson Mandela said, "Education is the most powerful weapon which you can use to change the world."
For more information, please click here.  Follow Live the Give on Facebook here  or their Instagram here.
THIS POST WAS SPONSORED
Latest posts by Chere Di Boscio
(see all)