Saskia Diez is undoubtedly a 'people person'. The accessories designer founded her label in 2007, and based its growth very much on personal relationships, such as those between her and one of the women who produces her ethically sourced jewellery materials, whom she met when the two were doing goldsmithing apprenticeships. Shortly after, the partner of that woman contributed to Diez's production line too: "  I like that way of working and having the opportunity to engage people around me that I like," says the designer.
But she doesn't just use friends to help her with production: she purchases her materials from known connections too. "When I started to work on the WOOD and later on the LACE collection, we searched for a manufacturer who would use local wood from sustainable forestry and non toxic lacquer. When we worked with leather for the LEATHER series we found a manufacturer in Germany, doing super nice quality and using vegetable dyed, eco-certificated leather from German origin," Diez states.
Beyond building bonds of trust between friends, there are other good reasons for working this way, she says: "The great upside is that you can control the quality of the products and also adjust it a lot better as if having the production far away. And it provides you with a high level of flexibility."
The result is a carefully executed range of sustainable, minimalist jewellery that suits women of all ages and styles. But Diez is more than a jeweller: after  completing her training as a goldsmith, she also  studied industrial design, which translated into using interesting industrial materials such as Tyvek ®, a synthetic paper that's robust and 100% recyclable, which Diez used to make a range of travel bags that are not only durable, but luxurious too.

From high-tech bags to simply beautiful jewellery, there can be no doubt that Diez is a woman of many talents. But she also understands that it helps to get by with a little help from her friends.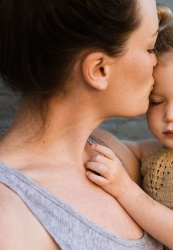 Latest posts by Diane Small
(see all)
This site uses affiliate links with brands we trust, and if you make a purchase using a link, we may receive a commission.
Did you enjoy this post? Want to show your gratitude? Please support us on Patreon!