By Diane Small
Jewellery is perceived by people in different ways. For some, it's a talisman that could bring good luck. For others, it's a sign of wealth and success. For others, it's a form of self expression, or it may send a message about their culture or heritage.
For Ele Keats, jewellery has a more spiritual meaning. She believes in the healing qualities of gemstones, and after a trip to India when she was 17, she learned even more about the mystical qualities of stones. Years later, a trusted friend suggested she wear an emerald for its protective qualities, and unable to find something she liked, she designed her own piece to wear.
She was soon overwhelmed with compliments from strangers and friends, asking where they could buy something similar, and she knew she had to create her own jewellery line.
Born in Paris and raised in Europe, New York and Los Angeles, Ele Keats now specialises in inspirational and birthstone designs, but she has another job that's helped her accessories line greatly: acting. She's been in front of the camera since she was 15, and has since been in over 20 films, numerous TV shows and hundreds of commercials, including the (in)famous Michael Jackson Pepsi advert. Having many celebrity colleagues means that Ele's designs have been worn by the likes of Terri Hatcher Cameron Diaz, Diane Keaton, Jessica Biel, and many more.
A career in Hollywood also requires a grounded head, and Ele tries to keep her feet on the ground by reading inspirational books, such as Eckhart Tolle's "A New Earth, " which inspired her to create the 'This too will pass…' collection, which reminds its wearers that the only constant in life is change.
What we love about Ele's line is her dedication to the environment. She always loved the sparkle of diamonds but was reluctant to use them, given the distress and ruination their mining causes. In keeping with her beliefs that the way a piece is created and that the origin of its materials are important expressions of quality, spirituality and
wellness, Ele decided to partner with  Storied Diamonds, which sell only up-cycled, responsibly sourced stones.
Each diamond has been transformed from one person's previously beloved gem into the next  person's new cherished belonging. Additionally, of the gold in this collection is 100% certified  recycled, meaning each piece is not only full of human history, but it's eco-friendly too.
For more information, please click here.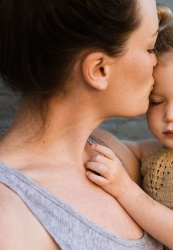 Latest posts by Diane Small
(see all)
This site uses affiliate links with brands we trust, and if you make a purchase using a link, we may receive a commission.
Did you enjoy this post? Want to show your gratitude? Please support us on Patreon!