By Diane Small
'People want fashionable clothes and they should be able to buy them without worrying about the impact on the world. We are creating an alternative, an ethical and sustainable choice that does not compromise on design or quality.' This is the philosophy behind Outsider Clothing.
The brand deliberately focuses on creating items that are classic and flexible, allowing the wearer to mix and match each piece to keep them seasonally relevant. The line also encourages layering–fine knit, long sleeved Tees fit perfectly under short sleeved dresses; jackets drape well over layered jersey tops.
This shoot illustrates how to mix and match key pieces from Outsider's collections to keep you looking stylish, no matter what the season.
Shoot Credits
All styles by  Outsider  –  www.outsiderfashion.com
Make-up & Hair Styling – (all organic products used) by Tabitha James Kraan –  www.tabithajameskraan.co.uk
Photographer – Alice Whitby –  www.alicewhitby.com
Jewellery – Sarah Pulvertaft –  sarahpulvertaft.com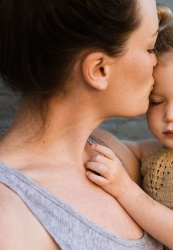 Latest posts by Diane Small
(see all)
This site uses affiliate links with brands we trust, and if you make a purchase using a link, we may receive a commission.
Did you enjoy this post? Want to show your gratitude? Please support us on Patreon!