By Diane Small
Ok, it was a lame pun I put there in the title. But these dresses for the autumn bride really are to die for – whether you're walking down the aisle or not. Reformation's latest collection is, in our opinion, almost too slinky and sexy for church (though it would be great for a beach wedding!), so why not buy yourself the dress even if you don't have the ring?
We love the new fall colours, some of which are seen below but which also include Poinsettia, Saffron, Stone and Blackberry, and the materials were selected for how they drape on the body,  tastefully showing a bit of flesh via backless silhouettes, off the shoulder sleeves, sassy two pieces and of course, their signature plunging fronts and slits.
Reformation Wedding Dresses really are unlike any others: these are all classic, feminine shapes you're guaranteed to wear again, whether you're a bride, bridesmaid, or just married to fashion. In keeping with Reformation's eco-ethos, all materials are sourced from deadstock or are eco friendly, like their new Blue Sign Eco Silk—made using the safest dyes in the world – which provides the basis for their new line of slip dresses.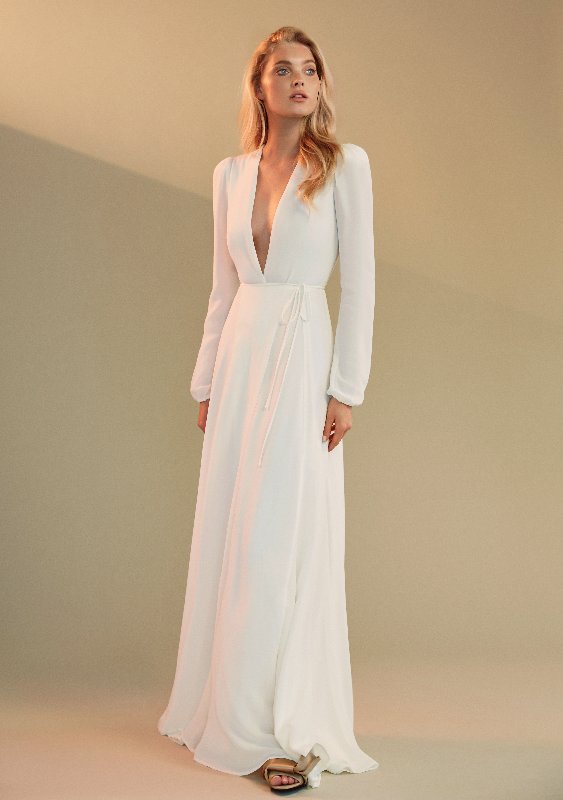 If you're in LA and want to pay them a visit, Ref Bridal Studio is now accepting walk-ins every weekend from11am-5pm. Appointments can still be made Wednesday through Sunday at [email protected] or 213 736 2810.
Related articles across the web