Last Updated on
Now, up-and-coming fashion brand Ala
Mairi has created a new bond between Scotland and a majority world country–this time, Pakistan.
There are no dodgy monarchs involved this time, however: Ala Mari is simply a luxury ethical fashion brand that uniquely fuses the cultures of Scotland and
Pakistan
in its garment designs, mainly by producing stunning colours, patterns and fabric that fuses the best traditions of both nations. The brand was a favourite on the EcoLuxe runway in London last year, and  
Ala
Mairi
 is also a social enterprise and supports the predominantly female artisans in both countries in earning a  
sustainable living
from their skills.
We love the lush, velvety fabrics, intricate embroideries and minimalist cuts that define the brand, all of which you can see below in the brand's recent look book, which proves beyond a doubt that even the most different of cultures can work together to create something singularly beautiful.
Related articles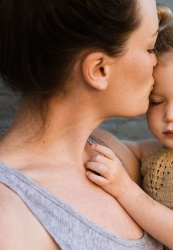 Latest posts by Diane Small
(see all)
This site uses affiliate links with brands we trust, and if you make a purchase using a link, we may receive a commission.
Did you enjoy this post? Want to show your gratitude? Please support us on Patreon!