Mens' mental health is shakier than ever today. But Kings vegan brand for men is trying to help. Here's how
By Diane Small
Whilst loads of ethical companies donate money to support those in need, such as women and children's charities, there's one large group that's often overlooked: men.
Before you start thinking 'but…the patriarchy!' or 'but…white privilege!, consider this: men suffer from most forms of mental illness far more than women do. For example, 78% percent of all suicides in the UK are of men; the lifetime prevalence rate of alcohol dependence is more than twice as high in men, and men are more than three times as likely to be diagnosed with antisocial personality disorder.
Perhaps worst of all, men are far less likely than women to discuss or even acknowledge the fact that they may be struggling with a mental illness. But one budding entrepreneur who suffered with mental health issues himself is set to change all of that.
Blue O'Connor has launched a crowdfunding campaign to help support other men with mental health problems, through his Kings vegan brand for men's grooming products. Twenty percent of all profits made from the sales of his ethical range will support the mental health charities Mentoring Plus and Bristol Mind. Kings key product, an aftershave called Evolution, is cruelty-free and is approved by the Vegan Society.
Evolution opens with a base of earth and wood, then blooms into patchouli, cardamom, vetivert and finishes with notes of ylang ylang and eucalyptus. Of course, the cologne contains no nasty chemicals like parabens and is palm oil free, and would make a great gift this Father's Day for the man in your life. In fact, if you pledge just £25 to the crowdfunder, you'll get a sample size of the aftershave, along with a Kings tee shirt. For £29, you'll get a full sized (50ml) bottle of the scent – that's 50% off the RRP!
Blue says he aims to "empower young men to be open about their problems…there's still a huge stigma with young men when it comes to dealing with mental health issues. I feel strongly that we need to open up the conversation and address them to live healthier and happier lives."
He hopes to raise £10,000 through his crowdfunding campaign with the sale of the aftershave and ethical t-shirts. "We want to encourage men to challenge the unhealthy, unrealistic ideas society holds about masculinity, and redefine what masculinity means in 2018." A noble mission, if you ask us!
For more information on the Kings vegan brand for men, please click here. To help support the crowdfunding campaign, please click here.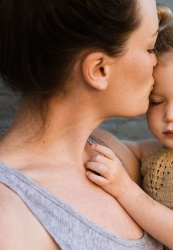 Latest posts by Diane Small
(see all)