There are loads of gorgeous brands out there, but Buly beauty products may be the most stunning. Here's why
By Arwa Lodhi
Back in the early 1800s, there was no L'Oreal. No Garnier. No Clarins. Instead, the most coveted cosmetics for the chicest Parisians were Buly beauty products – and now, they're back.
Located at 6 rue Bonaparte in the heart of Saint Germain, Buly 1830 is a one-stop shop for organic, handmade French beauty products that are not only wonderfully effective, but heart-stoppingly beautiful, too.
Although it looks like it's been there for centuries, this centrally located Buly branch is the brainchild of one modern married couple: Ramdane Touhami, who revamped iconic candle brand Cire Trudon, and Victoire de Taillac-Touhami, who previously worked at the renowned concept store Colette.
The duo bought and re-imagined French heritage brand Buly, giving new life to it in a shop whose design harkens back to the grandeur of the 19th century, with its wooden cabinets and exquisite glass packaging. But it's the contents of those packages that are the most fascinating.
Buly Beauty Products: The Most Beautiful In the World?
Whilst organic ingredients may not be anything new to Eluxe readers, the particular components of some of Buly's products may well be. For example, there's a face scrub made up of Japanese bush warbler droppings (said to have regenerating properties for the skin); a mint tea flavoured mouthwash based on French spring water called Eau de la Belle Haleine, pink peony powder facial scrub, and scented candles made from rice, soy and copra wax, presented in delicate bell jars.
Touhami is particularly proud of their all natural, water based perfumes: the pair search the world for organic oils that evoke fragrances like the grass, rain and soil of the Scottish Highlands, for example. One of my personal favourites is the refreshing Kiso Yuzu cologne, with its tangy yuzu offset by mint and Japanese laurel.
More quotidian products include Pommade Concrète, a chamomile infused hand balm, various perfumed body milks, and even their own natural toothpaste brand, which comes in exotic flavours like mint-coriander-cucumber, Montauban apple, and orange-ginger-clove. The tube is so elaborately decorated, you almost don't want to use it up!
Indeed, maintaining elements of Buly's original packaging designs was important to the young couple, as was ensuring the materials used were true to the brand's roots, too. As a result, you'll find glass bottles topped with cork or pewter caps; paper labels, and aluminium tubes – in short, no plastic.
The antique nature of their beauty accessories also stands out. There are toothbrushes with silk bristles, brushes constructed from horsehair, and a vetiver root scrub brush, to name but a few of the gorgeous curiosities found here.
The Best of Buly 1803
France has always been a beauty capital, but given that most of the big French beauty brands are also some of the most chemically-based, animal-tested ones, it seems that Buly's step back into the past is actually a huge leap forward.
And the best part? You don't need to visit Paris to sample the wonders of this brand; you can buy many of their products online. Here's our pick of some of the best.
As with most of the products made by Buly 1803, you'll want to buy this just to display the wonderful bottle in your bathroom! An all natural mouthwash made with the beneficial waters of the Castéra-Verduzan spring and with a sweet mint tea base, this will leave you with irresistibly fresh breath after just one use.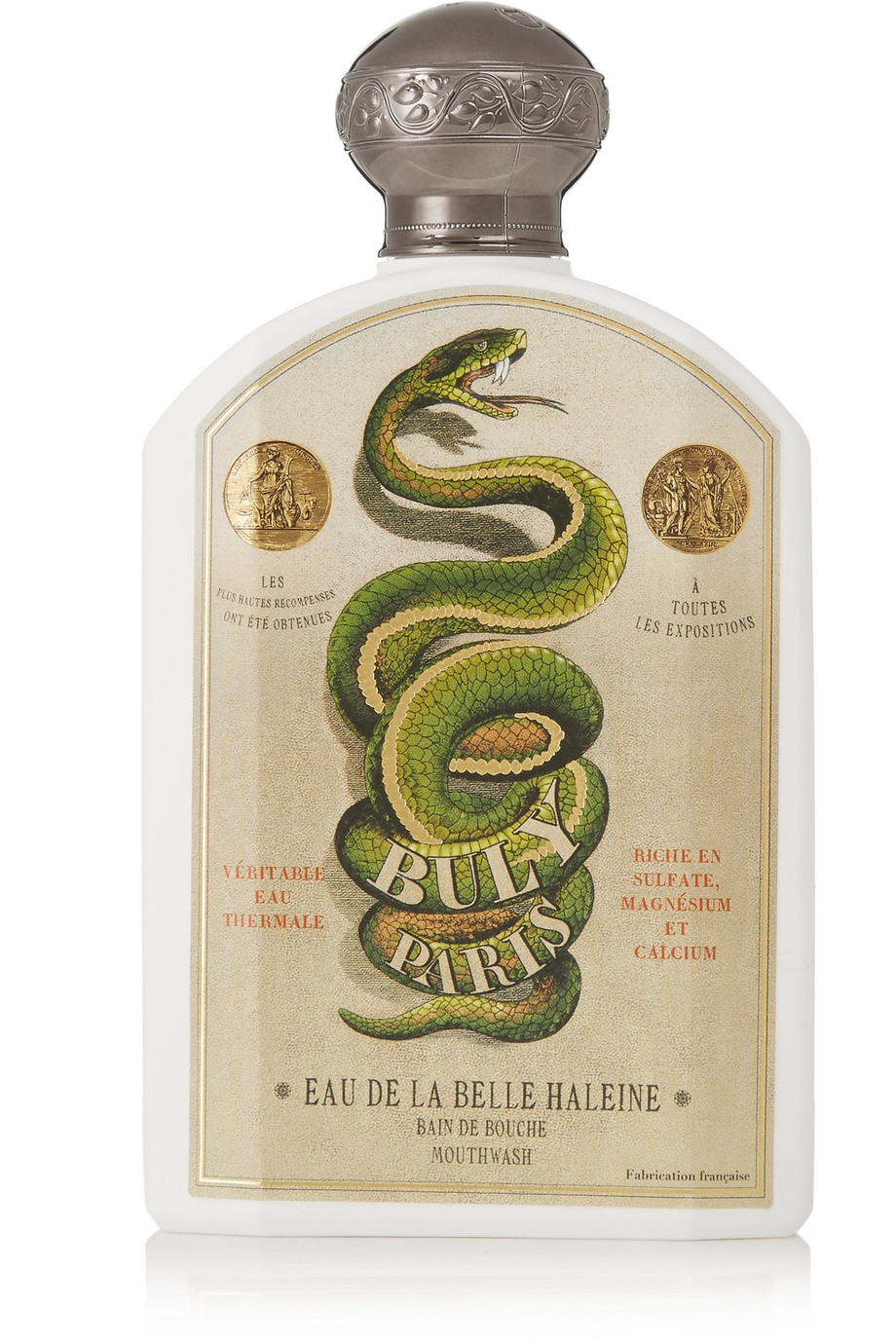 The scent of tuberose is one of the most intoxicating on earth, and this body oil captures it perfectly. It lasts so long on your skin, it could act as a perfume, and its naturally derived organic ingredients also bring anti-inflammatory and nourishing properties to every inch of your body.
3. Opiat Dentaire Toothpaste
Got sensitive teeth? This all natural toothpaste uses thermal water from Castéra-Verduzan – the first spa town in France to have been accredited by the health department for treating ailments. Because it doesn't contain any harmful SLS (a form of detergent often used in toothpaste and soap), it doesn't foam up much, which is a good thing. It combines the cleansing properties of calcium and magnesium, and is specially designed to calm mouth aches.
Formulated with Chamomile Water and Shea Butter, this rich, all-natural skin balm is designed to soothe the effects of the elements on your hands, elbows, and feet. And who wouldn't love this illustrated package on their dressing table?
Scented candles simply don't get more luxurious than this! Housed in a marble container with a chic glass lid, this candle gives off the fresh scent of wet grass on a spring day. Formulated in Buly's workshop using only plant-based ingredients, it opens with citrusy notes of Bergamot, Lemon and Rosewood, and has a lingering smoky base of Incense and Musk. This would make such a wonderful gift!
Latest posts by Chere Di Boscio
(see all)