Last Updated on
By Diane Small
As Berlin Fashion Week AW14 proved once again, the German city is on the cutting edge of not only eco-fashion, but eco-friendly makeup.
Highlighting three days of natural cosmetics and eco fashion, the lavera Showfloor beautifully demonstrated just how fashionable sustainable and environmentally friendly fashion can be. For the third time now, international sustainable fashion designers invited the press and guests from all over the world to 12 different exciting eco-fashion shows.
A green lifestyle is for everybody  was the motto for Klara Ahlers, lavera's CEO. A pioneer in green cosmetics who launched her first natural cosmetics store in 1988, Ahlers welcomed guests and the press to the opening show, wearing an impressive lace crochet dress with fulminant tulle flounces on the shoulders and train. The dress was created by Nora, a fashion design student from at the University of Applied Sciences in Hannover.
This year, the Showfloor focused on internationality: a third of the labels came from England, the others from Germany, Denmark and the USA. The main topics on the fashion floor were regional and fair manufacturing, certified ethical garments and new ways of manufacturing, but on the catwalks, eco-friendliness transferred into makeup looks, too.
Focus on beauty
Of course, the models that wore the eco-friendly fashion by the 12 international designers all wore natural lavera make-up products. Moreover, a  lavera style up lounge  with make-up consultants awaited the guests and invited the guests to  get even more gorgeous, for free.
But lavera was not the only natural brand that defined Berlin Fashion Week makeup: Benjamin Becher, Head of Makeup at SANTE Naturkosmetik, sent models down the runway for Michalsky using only natural makeup on each.
He and his team worked in close collaboration with designer Michael Michalsky to find the right colours and textures to match the collection perfectly.  The result was a relatively light approach to the makeup, with a clear focus on  an 'alert' look, as requested by the designer. This 'alertness' was seen mainly in pops of colour on the lips, adding a punch to an otherwise understated look.
Based on vegetable oils and plant extracts, all brands of natural formula-based makeup provids a soft look and optimal skin tolerance for even the most sensitive skins–and needless to say, its non-toxic qualities mean it's good for the health of the planet, as well as your own well-being, whether you're an A-list celebrity, catwalk model, or regular 'glamanista'.
Related articles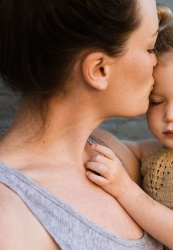 Latest posts by Diane Small
(see all)
This site uses affiliate links with brands we trust, and if you make a purchase using a link, we may receive a commission.
Did you enjoy this post? Want to show your gratitude? Please support us on Patreon!